Maps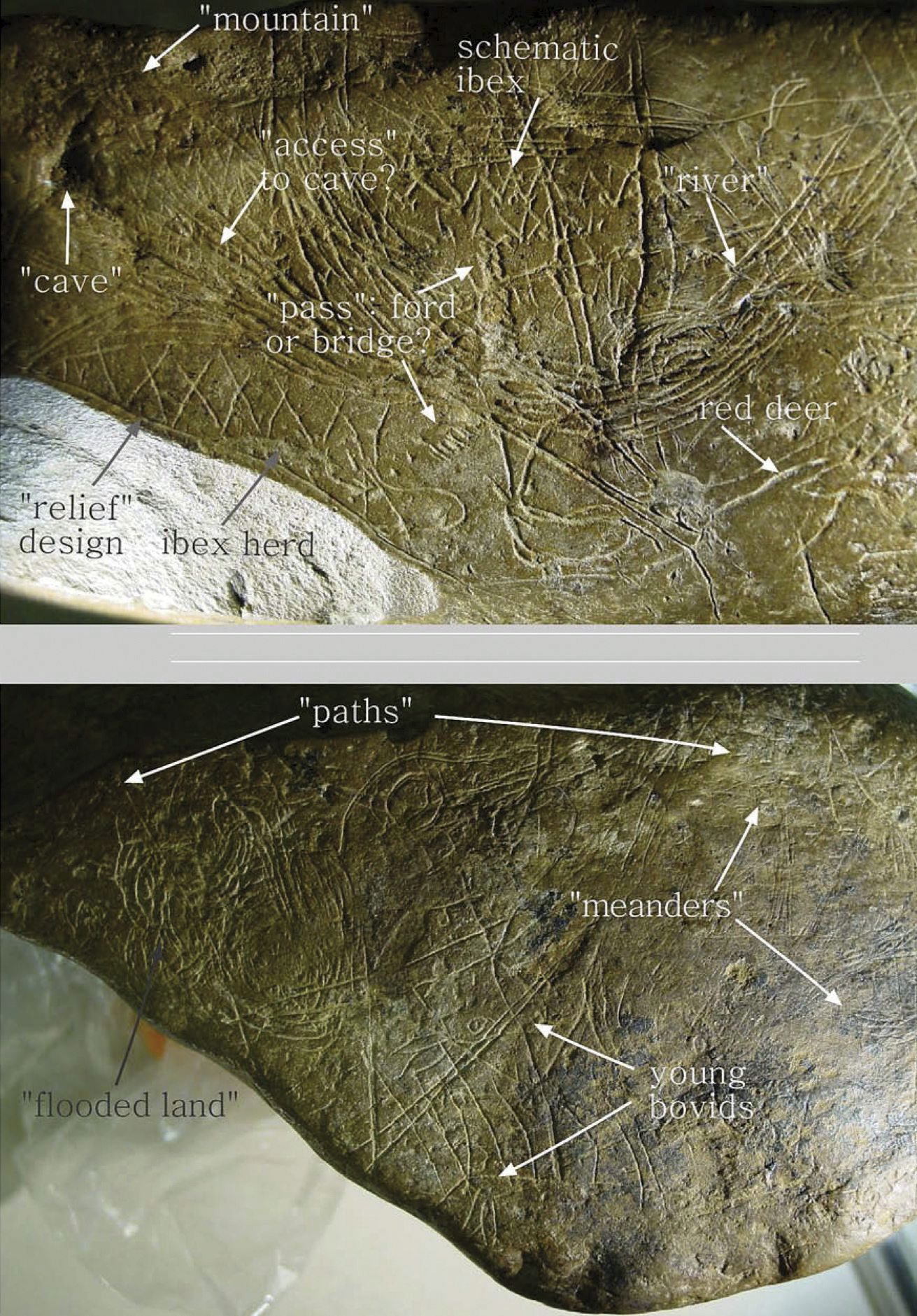 Stone Map:  About 14,000 Years Old   …   A palaeolithic map from 13,660 calBP: engraved stone blocks from the Late Magdalenian in Abauntz Cave (Navarra, Spain) 
An engraved block from the cave of Abauntz is interpreted as a Magdalenian map in which the actual surrounding landscape, including mountains, rivers, and ponds, is represented. Some possible routes or avenues of access to different parts of the geography are also engraved on the landscape. The engraving seems to reproduce the meandering course of a river crossing the upper part of side A of the block, joined by two tributaries near two mountains. One of these is identical to the mountain that can be seen from the cave, with herds of ibex depicted on its hillsides, on both sides of the gorge in front of which the cave of Abauntz is strategically located. In the southern part of the gorge, there is a completely flat area where the watercourses slow down, forming meanders and flooding in springtime. The following elements are also represented on the block: tangles of concentric strokes and bundles of lines forming very marked meanders. In short, all of these engravings could be a sketch or a simple map of the area around the cave. It could represent the plan for a coming hunt or perhaps a narrative story of one that had already happened. This paper is provided in the context of recent discussions on early modern human capacities of spatial awareness, planning, and organized hunting.  Journal of Human Evolution, Volume 57, Number 2, Pages 99-111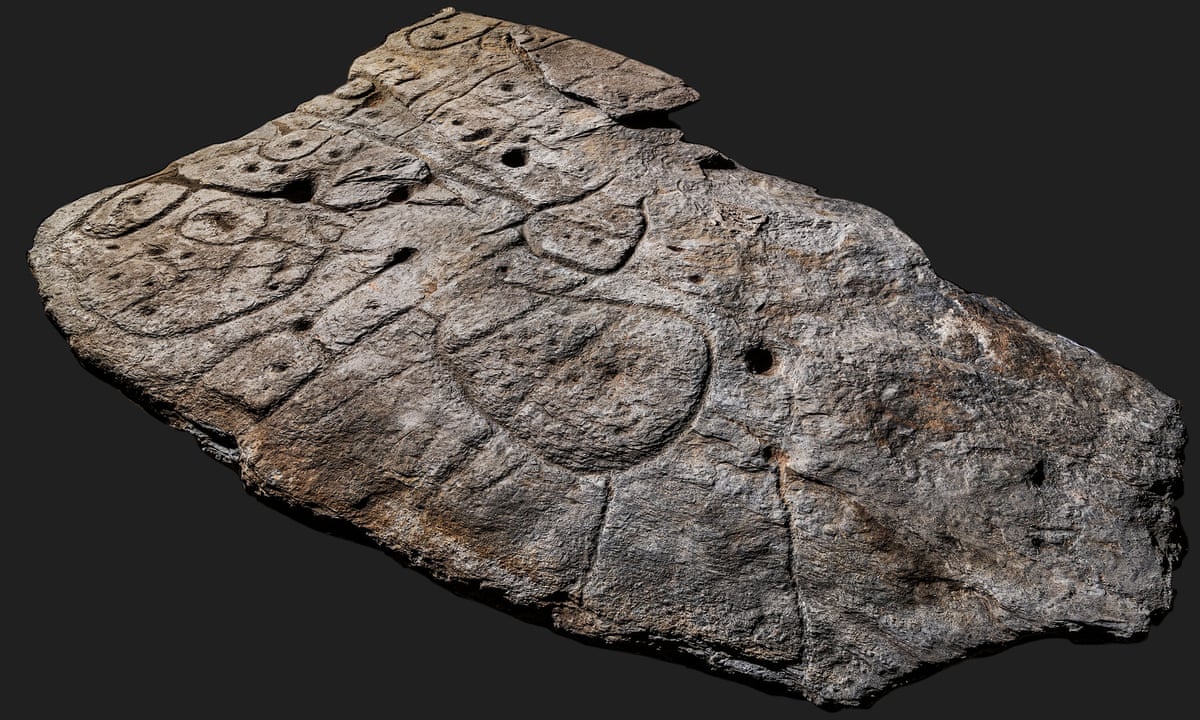 Bronze Age slab found in France is oldest 3D map in Europe
The piece of rock, known as the Saint-Bélec Slab, is believed to date from the early Bronze Age, between 1900 BC and 1650 BC.
It was first unearthed in 1900, during digs on an prehistoric burial ground in Finistère, western Brittany, by local archaeologist Paul du Chatellier.
The researchers say the indentations are a 3D representation of the River Odet valley, while several lines appear to depict the area's river network.
Geo-location revealed the territory represented on the slab bears an 80% accuracy to an area around a 18 mile-long stretch of the river.
*
Maps & Learning 
A detailed wall map may hold up to one million pieces of information that can be interpreted.  People with limited language reading skills can absorb information from maps far more easily than from printed words.  Map reading skills are also employable in occupations that require working with schematic diagrams and technical drawings. 
Maps are essentially a mathematical or geometrical presentation of information.  However, because humans have adapted to quickly see small differences between colours, shapes, lines and patterns, we are able to grasp map information quickly. 
In my opinion, studying an Atlas is the single most useful text-based learning exercise that children and adults can undertake.   A wealth of knowledge and understanding can be obtained relatively cheaply, relatively easily, and relatively quickly.
There are Atlases available for all kinds of topics.  For general learning about Geography and Human Activities, I recommend the Canadian Oxford School Atlas as a good starting point.  
Below are links to some Map Learning Resources that I hope you will find in some way useful or interesting.
*
Accuracy Analysis of Old Maps (MapAnalyst)
Aviation Weather Forecasts and Observations  (NAV Canada)
Data, Maps and Tools Directory (Natural Resources Canada)
The development and evolution of the William Smith 1815 geological map from a digital perspective   …   The first stage in the triangulation was the measurement of an accurate baseline between Kings Arbour (now the site of the Heathrow Airport car park) and the Poor House at Hampton. This was first achieved by iron bars and deal rods and then remeasured using glass tubes. Corrections were made for temperature and humidity and the line accurately leveled; the final accuracy is estimated at an amazing one inch in 27,400 ft.  [1 inch in 328,800 inches.]
Smith's interest in representing geology in three dimensions can be traced back to his early career as a mine surveyor.
Dictionary of Symbols for Topographic Map Production (AU)
Disease Distribution and Prevalence
Fundamentals of Mapping (ICSM)
Geographic Information Systems (Michael Schmandt)
Geography and Map Reading Room
Geological Atlas of Saskatchewan
Geological Maps (Lewis & Gunther)
Geological Mapping (Hong Kong)
Geologic Maps (American Geosciences Institute)
Historic Maps Collection (Princeton U)
Historical Map and Chart Collection (USA)
Historical Map Web Sites (Perry-Castaneda Library)
French Losses during the Russian Campaign of 1812 – 1813   …   The map's French caption reads:   Figurative Map of the successive losses in men of the French Army in the Russian campaign 1812-1813.  Drawn up by M. Minard, Inspector General of Bridges and Roads in retirement. Paris, November 20, 1869.
The numbers of men present are represented by the widths of the colored zones at a rate of one millimeter for every ten-thousand men; they are further written across the zones. The red [now brown] designates the men who enter into Russia, the black those who leave it. —— The information which has served to draw up the map has been extracted from the works of M. M. Thiers, of Segur, of Fezensac, of Chambray, and the unpublished diary of Jacob, pharmacist of the army since October 28th. In order to better judge with the eye the diminution of the army, I have assumed that the troops of Prince Jerome and of Marshal Davoush who had been detached at Minsk and Moghilev and have rejoined around Orcha and Vitebsk, had always marched with the army.
The scale is shown on the center-right, in "lieues communes de France" (common French league) which is 4,444m (2.75 miles).
The lower portion of the graph is to be read from right to left. It shows the temperature on the army's return from Russia, in degrees below freezing on the Réaumur scale. (Multiply Réaumur temperatures by 1¼ to get Celsius, e.g. −30°R = −37.5 °C) At Smolensk, the temperature was −21° Réaumur on November 14th.
Incident Command System Map Reading Course
International Specification for Orienteering Maps
Language and Location – Map Accessibility Project (LL-MAP)
Map of the Month (International Cartographic Association)
Map Reading Guide (Geoscience Australia)
Maps (National Library of Australia)
Maps and Geography (Statistics Canada)
Map Mysteries:  Teaching Earth Science and Geography
Map Skills and Higher Order Thinking (David Walbert)
MetEd:  Free Geo-Science Training Modules 
Meteorology Manual (South Africa)
Saskatoon Community Crime Stats
Shapes on a Plane:  Making Maps
Spatial Cognition, Information Visualization, & Computer Graphics (Tamara Munzer)
Spatial Cognition & Line Orientation (Jeffrey Longstaff)
Topographic Maps (Natural Resources Canada) 
Tropical Cyclone Activity Report (Pacific Disaster Center) 
US Geological Survey Educational Resources
Weather Maps (JetStream Online School for Weather)
Worldwide Heroin Movements (CIA)
Navigation Chart from the Marshall Islands   …   Navigation Chart (Rebbelib)
From the Marshall Islands, Micronesia
Probably 19th century AD
The Marshall Islands in eastern Micronesia consist of thirty-four coral atolls spread out across an area of several hundred miles. …The islanders developed a reputation for navigation between the islands – not a simple matter, since they are all so low that none can be seen from more than a few miles away.
In order to determine a system of piloting and navigation the islanders devised charts that marked not only the locations of the islands, but their knowledge of the swell and wave patterns as well. The charts were composed of wooden sticks; the horizontal and vertical sticks act as supports, while diagonal and curved ones represent wave swells. Cowrie or other small shells represent the position of the islands. Generally the charts were used as an aide-memoire for an experienced navigator, and were not constructed to scale.
This chart is of a type known as a rebbelib, which cover either a large section or all of the Marshall Islands. Other types of chart more commonly show a smaller area. This example represents the two chains of islands which form the Marshall Islands. It was collected by Admiral E.H.M. Davis during the cruise of HMS Royalist from 1890 to 1893….
Traditional…Communication Patterns in the Marshall Islands
The Disease Map of the World (Odra Noel)
… Each continent is painted as microscopic views of the parts of the body that, when diseased or dysfunctional, cause most death or illness for the people who live there.
North America is built from fatty adipose tissue because of its epidemic of obesity. Europe and Russia is represented by brain tissue, representing the neurodegenerative disease of its ageing population.  East Asia and the Pacific region is shown as pancreatic tissue, which when diseased causes diabetes.  Greenland is marked by a few sperm cells that represent infertility.
*
I trust this finds you well, and well oriented.
Yours,
awasis