Education
Who Knows Best About Education? 
It for sure ain't Teachers or School Administrators, eh?
*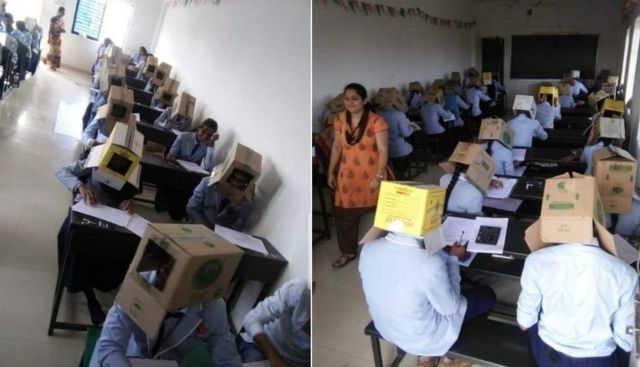 A chemistry exam at Bhagat Pre-University College in Haveri, Karnataka state, India.  2019.  … students wearing boxes, cut open on one side, to prevent them from being able to copy other people's work.  [And which PhD genius had this brain wave, eh?]
Apology after Indian students wear cardboard boxes for exams 
Indian boy, 12, in UAE develops anti-cheating system for online exams (June, 2021)
*
India's education minister assails evolutionary theory, calls for curricula overhaul
By Pallava Bagla.  Jan. 22, 2018.  NEW DELHI—A new front has opened in the war on science in India. On Friday, India's minister for higher education, Satyapal Singh, took aim at the theory of evolution. Calling himself "a responsible man of science," Singh, a chemist, suggested that Darwin's theory is "scientifically wrong" and "needs to change" in school and university curricula. In remarks on the sidelines of a conference in Aurangabad, in central India, Singh further noted that "nobody, including our ancestors, in written or oral, have said they saw an ape turning into a man."
Singh is not the only voice in India's ruling Bharatiya Janata Party (BJP) espousing antiscience views. The government took heat last year over an effort to validate panchagavya, a folk remedy based on cow dung, as a cure-all, and in 2014, Prime Minister Narendra Modi claimed that the world's first plastic surgery was performed in India when the Hindu deity Ganesh was created with a human body and an elephant head. "The BJP is the fountainhead of scientific nonsense," says opposition politician Jairam Ramesh, a mechanical engineer by training.
*
Montreal man sentenced to 18 years for sexually exploiting young girl from Africa (August 19, 2021)
Records: Superintendent lied to jury investigating massacre (April, 2021)
*
Plagiarism and Other Academic Frauds
*
How Common Is Belief in the Learning Styles Neuromyth, and Does It Matter? 
*
'She had magic': my grandmother's forgotten role at Summerhill, the English school with no rules
*
Feb. 3, 2022.  Juba Secondary School Gets a New Science Lab in Midst of COVID-19 Pandemic    The lab is furnished with biology, chemistry and physics practical learning equipment.  These include a microscope, chemical reagents, lenses and Prisms and measuring equipment such as Vernier Caliper, Micrometer, Screw Gauge, Measuring Tape, among others.  The aim is to enhance learning of science subjects through practical methods to improve their skills.  [Ya just can't make this stuff up.]
Opinion: No guts, political glory: the Sask. Party's pandemic gamble (September, 2021)
Parents on B.C.'s Malcolm Island say most children kept home from school over teacher's mask exemption (September, 2021)
*
'Illegal' school teaches hundreds of pupils whom education department hasn't placed (April, 2021)
Remote schools in Haa without teachers (May, 2021)
*
Not worth it: laid-off workers shun free vocational education (April, 2021)
Seeking diversity, employers drop college degree requirements for more jobs. (April, 2021)
*
'Cultural genocide': the shameful history of Canada's residential schools – mapped
*
Why universities are failing to prepare students for the job market (13.10.2021)
*
Education:  Keep it in the family … According to a new book, "Home Schooling in America", by Joseph Murphy, a professor at Vanderbilt University, in 1975 10,000-15,000 children were taught at home. Today around 2m are—about the same number as attend charter schools. … … Today the ranks of home-schoolers are overwhelmingly Christian, and 78% of parents attend church frequently. According to the National Household Education Survey in 2007, the main motivation for home schooling was for religious or moral instruction (36%), followed by school environment (21%) and the quality of instruction available (17%). … … According to Mr Murphy's book, parents want to control not only what their children learn, but the values they pick up and the company they keep. They are also increasingly convinced that schools are not that good at teaching…. …     
The Great Mismatch …McKinsey, a consultancy, reports that only 43% of employers in the nine countries that it has studied in depth (America, Brazil, Britain, Germany, India, Mexico, Morocco, Saudi Arabia and Turkey) think that they can find enough skilled entry-level workers. Middle-sized firms (between 50 and 500 workers) have an average of 13 entry-level jobs empty while large employers have 27.   What is going on? And what can we do about it? McKinsey argues persuasively that a big part of the problem is that educators and employers operate in parallel universes—and that a big part of the solution lies in bringing these two universes together: obliging educators to step into employers' shoes, employers to step into educators', and students to move between the two.   The best way to do this is to revamp vocational education….
Merit Pay for Teachers   NEWARK'S public schools are dreadful. Although they have been under the supervision of New Jersey's state government since 1995, there has been little improvement since then. Only 40% of students read to the standard prescribed for their age, and in the 15 worst-performing schools the figure is less than 25%. More than 30% of pupils do not graduate. Few of those who do are ready for higher education. Of those who entered one local establishment, Essex County College, in 2009, a whopping 98% needed remedial maths and 87% had to take remedial English. As a result, fed-up parents are taking their children out of Newark's public high schools and placing them in independent charter schools. Many public-school buildings now stand half-empty. The best teachers often leave in despair.   Things might now start to change. On November 14th members of the Newark teachers' union approved, by 1,767 to 1,088, a new agreement with the district which, it is hoped, will help to retain good teachers. It introduces, for the first time in New Jersey, bonus pay. Teachers can now earn up to $12,000 in annual bonuses: $5,000 for achieving good results, up to $5,000 for working in poorly performing schools, and up $2,500 for teaching a hard-to-staff subject. Newark will be one of the largest school districts in the country to offer bonuses. The idea was made palatable to the union, which had been reluctant to accept it, because the evaluation process will unusually be based on peer review, though the school superintendent and an independent panel will still make the final decision on each case. …     
Mexico's new government   "IT IS time to get Mexico moving," declared Enrique Peña Nieto…on December 1st in his first speech as the country's president…. … He also announced plans to take on the teachers' union, a fearsome organisation that long enjoyed a cosy relationship with the PRI. Mexico's schools are the worst in the OECD, a club of mainly rich countries, largely because the union controls teacher recruitment and training. The president says he wants to professionalise training and to ban hereditary teaching jobs (that this is considered radical gives an idea of the fight ahead). He has appointed Emilio Chuayffet, a no-nonsense interior minister of the 1990s, as education secretary, to take on Elba Esther Gordillo, the gorgon at the head of the teaching mafia. … http://www.economist.com/news/americas/21567941-new-president-believes-he-has-broad-political-agreement-change-his-country      
Higher education:  Not what it used to be   American universities represent declining value for money to their students …The cost of university per student has risen by almost five times the rate of inflation since 1983….  Between 2001 and 2010 the cost of a university education soared from 23% of median annual earnings to 38%; in consequence, debt per student has doubled in the past 15 years. …   …the chances of an American student completing a four-year degree within six years stand at only around 57%. …   In 1962 one cent of every dollar spent in America went on higher education; today this figure has tripled. …   …a federal survey showed that the literacy of college-educated citizens declined between 1992 and 2003. Only a quarter were deemed proficient, defined as "using printed and written information to function in society, to achieve one's goals and to develop one's knowledge and potential".   …   …A remarkable 43% of all grades at four-year universities are As, an increase of 28 percentage points since 1960. Grade point averages rose from about 2.52 in the 1950s to 3.11 in 2006.   …There are 200 colleges and universities where the three-year default rate is 30% or more.   …nearly 30% of college students who took out loans eventually dropped out (up from 25% a decade ago). …   …In a recent book, "Reinventing Higher Education", Ben Wildavsky and his colleagues at the Kauffman Foundation, which focuses on entrepreneurship, add that there has been a failure to innovate.  …Around 30% of all college students are learning online—up from less than 10% in 2002.   To see how efficient higher education can be, look at the new online Western Governors University (WGU). Tuition costs less than $6,000 a year, compared with around $54,000 at Harvard. Students can study and take their exams when they want, not when the sabbaticals, holidays and scheduling of teaching staff allow. The average time to completion is just two-and-a-half years.  … http://www.economist.com/news/united-states/21567373-american-universities-represent-declining-value-money-their-students-not-what-it     
Tablet Teachers … …even the poor are willing to pay for digital education—as they already do for the conventional kind. In Kenya eight out of ten parents pay tuition for courses outside school….   …In Ghana reading skills improved measurably among 350 children that had been given Kindle e-readers by Worldreader, a charity. In Ethiopia researchers found that even in the absence of teachers, children figured out how to use tablets provided to them by One Laptop Per Child, another charity, to teach themselves to read.   At Amaf School, average marks in science, for instance, went from 58 to 73 out of 100 in a single term, says Peter Lalo Outa, the headmaster…. http://www.economist.com/news/business/21567972-schools-africa-are-going-digitalwith-encouraging-results-tablet-teachers       
Education Level of Immigrants to Canada …Over 50% of immigrants to Canada and 47% of those to Britain have completed tertiary education, the highest levels among rich countries…. http://www.economist.com/blogs/graphicdetail/2012/12/daily-chart-2
Japan's new cabinet ON DECEMBER 26th the new prime minister of Japan, Shinzo Abe, unveiled his cabinet…. Consider the following. Fourteen in the cabinet belong to the League for Going to Worship Together at Yasukuni, a controversial Tokyo shrine that honours leaders executed for war crimes. Thirteen support Nihon Kaigi, a nationalist think-tank that advocates a return to "traditional values" and rejects Japan's "apology diplomacy" for its wartime misdeeds. Nine belong to a parliamentary association that wants the teaching of history in schools to give a better gloss to Japan's militarist era. They deny most of Japan's wartime atrocities.   The line-up includes Hakubun Shimomura, the new education minister, who wants to rescind not just the landmark 1995 "Murayama statement", expressing remorse to Asia for Japan's atrocities, but even annul the verdicts of the war-crimes trials in Tokyo in 1946-48. … http://www.economist.com/news/asia/21569046-shinzo-abes-appointment-scarily-right-wing-cabinet-bodes-ill-region-back-future    
Fleeing Nazis shaped Austrian politics for generations after World War II
Teaching History With Technology http://www.thwt.org/  
Canadian Vocational Association http://www.cva-acfp.org/en/newsletter/2012-12.php  
Canadian Apprenticeship Forum http://www.caf-fca.org/index.php  
International Vocational Education and Training Association http://www.iveta.org/members/index.php/IVETA-Basics/What-is-IVETA.html    
UNESCO-UNEVOC:  Technical and Vocational Education and Training http://www.unevoc.unesco.org/go.php  
The Wall (A film by Roger Waters) I recommend this film to anyone contemplating the education field.
As I write this, I am reminded of an old Teacher who had worked in Glasgow, and had been advised by his Principal, upon being hired, to pack a blackjack in his pocket to deal with punks who got out of hand.  The shit they don't teach you at school, eh?  (RIP, Mac.)
*
*