Arts, Crafts, & Trades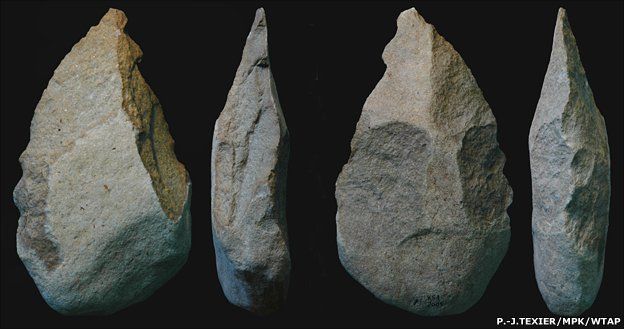 Hand Axe.  23cm long.  About 1.76 Million Years Old.
*
Primitive Technology:  Natural Draft Furnace (5:45)
*
Masters and apprentices at the Chapel of Hatshepsut
Archaeological Dig Reignites the Debate Over the Old Testament's Historical Accuracy
Ancient Mop Fair (1914)   …   The 'mop fair' is an annual custom in Stratford-upon-Avon dating back to medieval times. Traditionally held in October, when labourers and apprentices would come to the town seeking work, the fair culminates in the roasting of a whole ox, as can be seen in this evocative Topical Budget newsreel item. The practice, which continues to this day, was described by historian Charles G. Harper in the 1930s as "an offence to people of delicate sensibilities".  [I'm guessing he wasn't looking for work and feeling hungry at the time, though.]
*
*
Latin American Craft Bartenders Guild
*
Some Thoughts on "Quality Innovative Apprenticeships"
I have observed that those most likely to complete trades related learnings are those who have already completed at least one tertiary program (degree or other). Those least likely to complete a given trades related program are those with the least amount of reading, writing and maths competencies. "Past performance is the best predictor of future performance."
Offer apprenticeships to those who have achieved a tertiary certification (university degree or another trade) but are unemployed or marginally employed, on the basis of a forgiveable loans scheme. Undertaking a personal loan demonstrates a level of personal commitment, or "skin in the game."
Require time in trade service in exchange for an apprenticeship. For example, a four year apprenticeship would require four additional years of work in the trade in order to forgive the associated training costs debt. Otherwise, the loan must be repaid through non-forgiveable tax deductions (garnishment of wages). Obligate employers to provide the promised employment and training, or by default to become responsible for the debt burden and to thereby absolve the apprentice of this.
Allow apprentices to write government certifications exams upon demand. Charge cost recovery fees for these, to encourage earnest attempts. Limit attempts: "four strikes and you are out." Apprenticeship levels may thus be completed as quickly as possible, with higher pay accordingly due at each step.
My observation is that when those with academic backgrounds only (Social Workers, Psychologists, Librarians, Teachers, etc.) are put in charge of trades training that this is the beginning of the end of success for such endeavours. Require that all those administering trades training programs must have achieved a trade certification (Journeyperson or Technician) of some kind themselves, without exception. (All those so qualified, please raise your hands.) "Those who say otherwise are anathema to the cause."
*